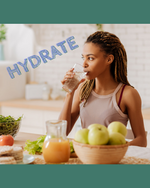 Hey Love,
I know life has been super busy and full of that non-stop schedule that seems to occupy every single second but you can take care of yourself better. How? Stay Hydrated! You owe it to your body to do the absolute best to preserve it by all means, if not you then who? See the following tips to keep living your best hydrated life:
Of course, DRINK WATER! You may not carry a gallon around with you all day but be strategic and drink as much as possible on a daily basis.
Use hydrating products with a water/aqua base, preferably with a natural humectant following to retain moisture in skin or hair.
Forget about those long hot showers, try a short lukewarm number to get the job done. Try your best to retain as much moisture as possible.
Avoid over-doing the caffeine. Let's face it, you don't need those 12 cups of coffee or pop and besides, it won't help your gorgeous figure. Caffeine can limit water intake and consume your hydration.
Switch up those products that strip natural oils to retain moisture, especially certain shampoos and body washes.
You can do this and it's definitely not as hard as you may assume. The key is to motivate yourself and stay ready, meaning if you need to bring your water to ensure you drink it do just that. If you need to time your showers go right ahead and if you need better moisturizing or sealant products head over to Love, Kin's product selections. Whatever you decide remember that your self-care routine is your way of keeping things in better shape for the future.
How are you staying hydrated this season? Comment below.